Shelley
Using her grandmother's center diamond, we created this platinum ring in the delicate art deco style that we love so dearly
Danielle
We had the best time designing this stunning art deco style engagement ring for a beautiful bride that is a talented designer herself! Rose gold and diamonds with sapphire baguette accents make this one a fan favorite
Liz
This one was crazy fun to design! An oval green sapphire is surrounded by grey and white diamonds in this vintage-inspired yet modern masterpiece
Deanna
Truly one-of-a-kind, wonderfully complex and intricate, and chock full of vintage-inspired details.
Maggie
These blue gemstones were previously set in a simple pair of earrings she never wore, so she decided to reset them into this statement-making deco cocktail ring
Rodgers
Rose gold with a morganite center, we designed this engagement ring and wedding band to fit together seamlessly to become a sparkly mandala style masterpiece
Lara
Delicate, rose gold, nature-inspired beauty
Lee
Organic, asymmetrical, and unique beyond belief
Rydal
Emeralds and white sapphires in a 2-toned gold vintage inspired setting making these statement studs a fan favorite!
Jacqueline
This bride wanted two unique bands to stack on either side of her vintage engagement ring - mission accomplished!
Lindsey
A custom diamond and ruby wedding band for a stunning vintage bride!
Brandy
We used all her diamonds from her old wedding set for this one, including her incredible 4ct cushion cut center diamond, creating this stunner of a right-hand cocktail ring
Alexis
With a dark blue sapphire center and pear-shaped accents, this is a ring fit for a queen!
Tara
Alternating baguette, round, and princess cut diamonds set this wedding band apart from all the others
Murdle
Simple rose gold brushed finish awesomeness!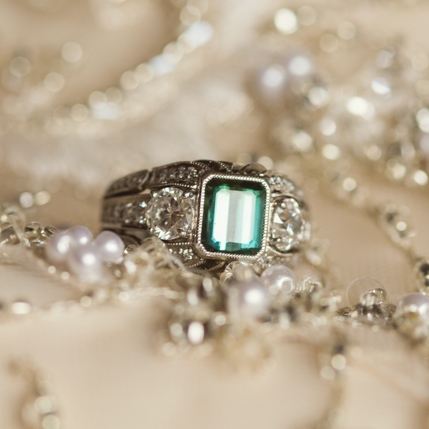 Jennifer
A one-of-a-kind engagement ring, using an emerald cut blue-green tourmaline for the center stone, and flanked by round 1/2ct diamonds on each side, one being the bride's grandmother's original engagement diamond.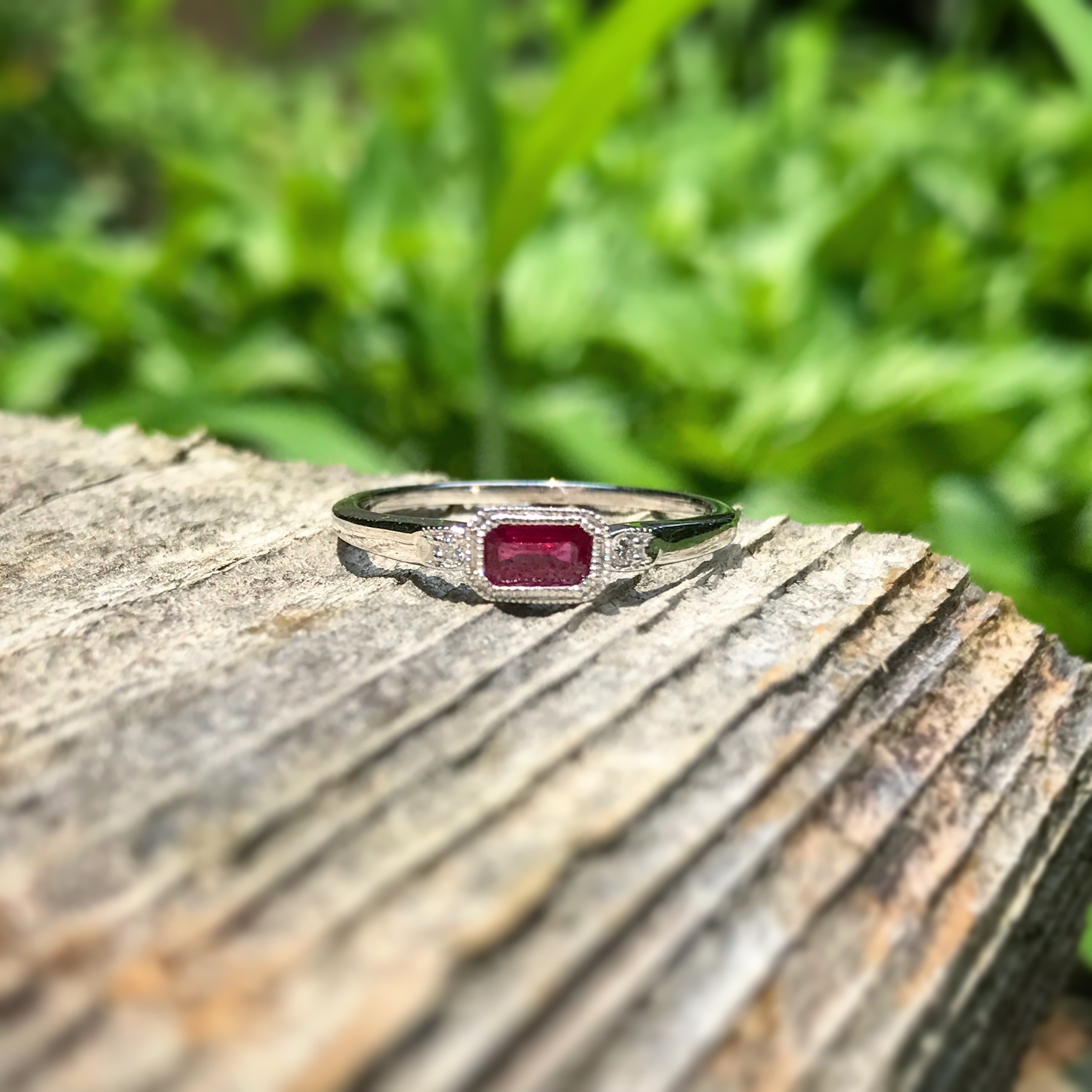 Ruby
An adorable platinum ruby ring with diamond accents, in honor of the client's first born daughter, Ruby
Manna
Genuine color-changing Alexandrite stones, alternating with diamonds set in a double milgrain marquise shapes, make this vintage-inspired eternity band a one-of-a-kind.
Sara
This happily married woman wanted to reset the diamonds from her original engagement ring into this re-imagined vintage-inspired everyday stunner.
Lindsi
Uniquely snowflake-inspired
Heather
Contemporary, organic, ocean-inspired. We sourced the incredibly rare Paraiba Tourmaline for this beauty - a truly collaborative effort!
Ross
An extremely special project for both client and designer, we repurposed this extraordinary client's center princess cut diamond and baguettes, adding a contemporary lattice design, for a spectacular showstopping piece!
Tiffany
Made with the highest quality sapphires and diamonds, this stunning wedding band accents her classic engagement ring perfectly
Wendell
This unbelievably fiery opal was given new life in a matte finish partial bezel setting
Martin
An east-west marquise salt and pepper diamond, bezel set in a matte finish knife edge rose gold band - feminine yet rock and roll, just like this awesome client!
Christine
This client found a pearl in an oyster she was eating at a market in London - we turned her special memory into this modern everyday ring
Max
Alternating baguettes and round diamonds, set in rose gold milgrain bezels, make up this delicate and classy deco style wedding band
Beth
Unique, eye-catching, classic
Mary Christine
A stunning 1.70ct cushion cut diamond set in a classic halo, for a classy bride
Clare
This fabulous client had lost half of a pair of ametrine earrings that she loved, so we turned the remaining ametrine into this fantastic rose gold solitaire with intricate side detailing.
Jenn
Vintage inspired marquise shapes make up this sparkling show-stopper of a wedding band
Candace
The client had a beautiful purple agate, and we designed this 8-prong yellow gold statement mounting!
Jana
Round and marquise diamonds from a family heirloom piece were transformed into this sparkling updated set!
Anne
Repurposing her mother's engagement diamond was the impetus for this piece - she now has a special solitaire to wear as a sparkling everyday reminder.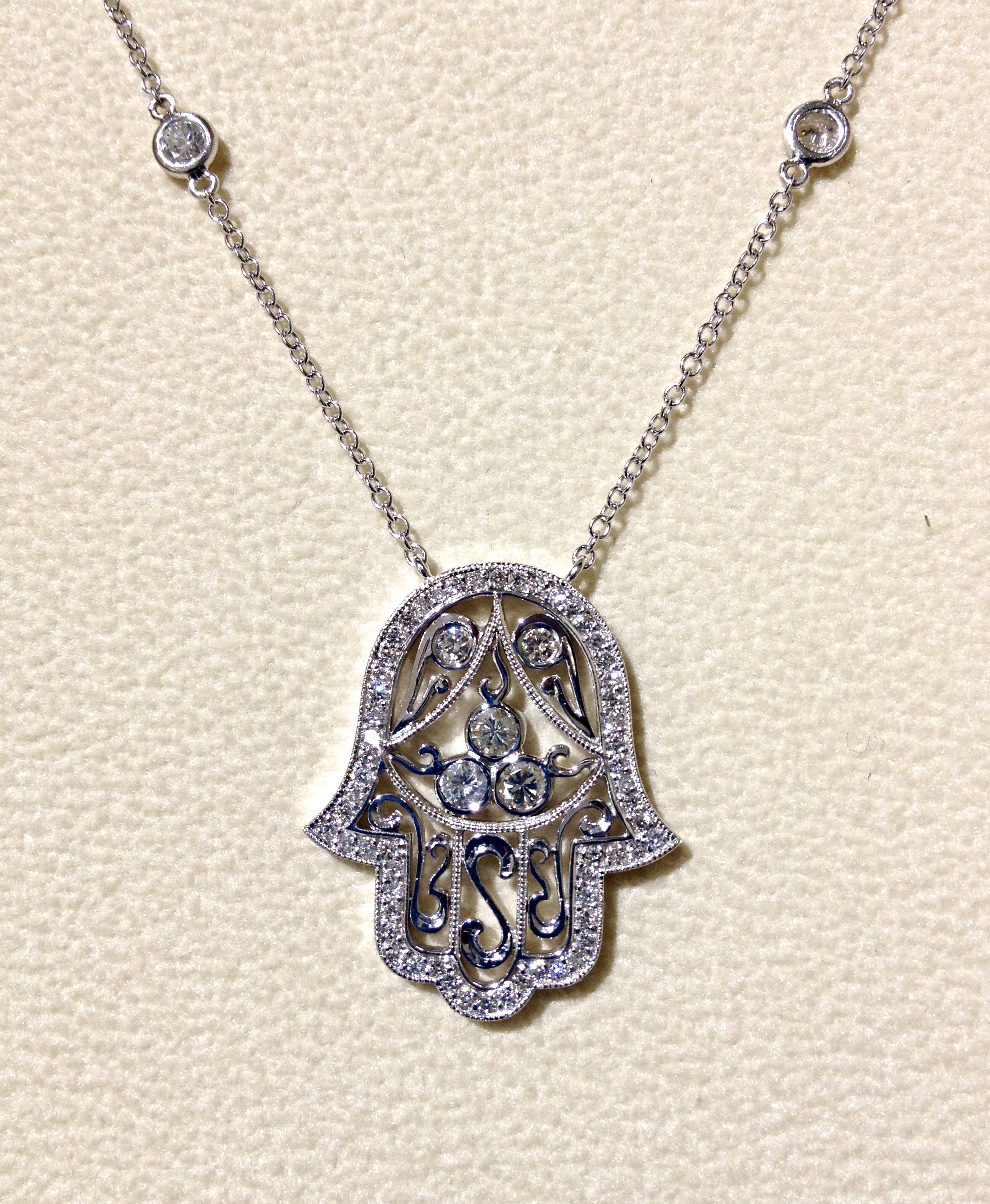 Donna
A special necklace for a special client. She wears it every day, and was the inspiration for the Hamsa Pendant for the JMaxwell Signature Collection.
Elizabeth
We took the JMaxwell signature bypass ring design, and added a standout sapphire to create this special anniversary gift
Michelle
An east-west marquise in a simple diamond mounting that packs a sparkly punch
Sean
A truly JMaxwell-style wedding band, and an early inspiration for some Signature Collection pieces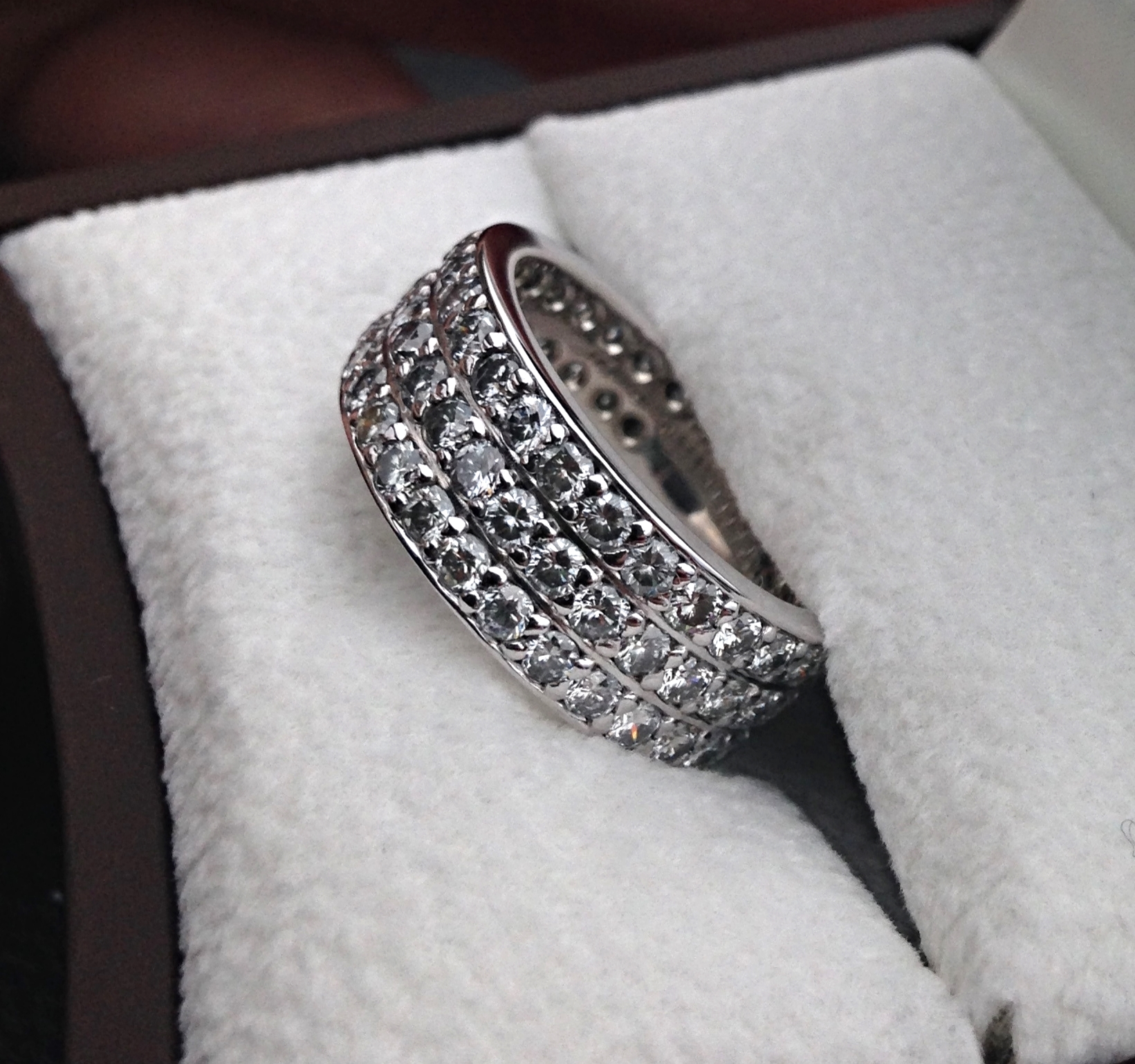 Melanie
A sparkly and fun wedding band for an extraordinarily lovely bride
Hannah
We put a new spin on the JMaxwell Hamsa design, incorporating two very special diamonds from grandparents on both sides of this client's family, into this everyday beauty
Brittany
This stunning center marquise is flanked on either side by sentimental family stones from the groom's family's jewelry, for a super special engagement story
Suzan
Funky yet wearable for everyday, we reset diamonds from an old engagement ring and a small pair of diamond studs to make this eye-catching pendant
Chris
This lucky fella got proposed to with this matte finish platinum piece with three channel set sparkling grey diamonds
Davis
Contemporary, clean, timeless
Katie
Using sentimental family stones, we created this timelessly classic surprise engagement ring.
Rachel
A one-of-a-kind anniversary band to stack with her wedding set - ten round diamonds for their ten years of marriage, with five additional marquise diamonds for their 15 years together
Joanna
We created this beautiful ring stack using diamonds from the client's mom's jewelry - such a special and sentimental collection!
Patel Sisters
Three sisters decided to create complementary diamond pieces for everyday wear - one sister wanted a pendant, one hoop earrings, and one studs.
Mackenzie
A rosecut salt and pepper diamond was the central focus of this yellow gold engagement ring, with a snake wedding band to symbolize the groom's Chinese zodiac
Barbara
This lovely lady had some white diamonds and cognac diamonds of her mother's, so we set them into this yellow gold infinity style ring with black rhodium over the cognac diamonds to make them pop.
Rothstein
A casual everyday stud version of the signature JMaxwell Hamsa design
Carly
The definition of "alternative bridal" - an emerald center, flanked by small diamonds, and set in a unique white gold mounting with black rhodium
Jane
We sourced this beautiful pair of 3.32ct diamonds for these modern statement-making clip-on earrings with an asymmetrical design
Magnolia
Inspired by the Lee design, we recreated this custom ring with gemstones that speak to the lovely client - green amber, labradorite, and rainbow moonstone, with diamond accents.
The Malcolms
Two vintage inspired wedding bands for an incredible couple
Jaime
Pear-shaped sapphire in a textured bezel, set on an angle with an asymmetrical diamond accent. A one-of-a-kind anniversary gift!
Tokish
The JMaxwell signature bypass ring in white gold, made as a secret birthday gift for a special lady!
Ashley
This sparkling round diamond set in a hexagonal halo was a hit at the memorable proposal of these two young lovebirds!
Marci
A simple and vintage inspired rose gold and diamond wedding band with milgrain bezels
Pam
Classic diamond drop earrings for everyday sparkle
LoVerde
A beautifully delicate curved wedding band made to fit alongside the Lindsi engagement ring
Maya
This asymmetrical custom necklace was made using some diamonds and aquamarines from a family ring, set alongside the initials of her two lovely daughters
The Bumbles
Two classic platinum wedding bands with special custom engravings inside
Rochelle
Baguettes of all different sizes came together beautifully in this comfortable stepping stone band
Sheryl
Cushion cut champagne-colored Mexican Topaz stones, set in rose gold studs with diamond accents
Williams
This mother of two wanted rings to symbolize her sons, so we pierced their African names in these simple bands and set their zodiac birthstones in each
Sonya
Simple diamond studs for a fabulous new mom!